Hello Iris Lovers,

Greetings for a new year and a new iris season. We hope all of your iris dreams and wishes come true this spring. We have been growing and selling irises for over 20 years. In fact this is our 23rd year in business. We greatly appreciate all of our loyal customers and those new customers who order from us for the first time. Our aim is to bring you the best irises we can.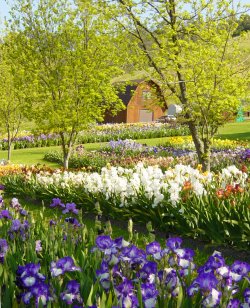 We grow limited quantities of each variety we carry so in order to obtain what you want it is best to place your orders early. Many varities start selling out when the garden opens to the public in mid-late April and May.

In order to maintain the quality and size of our rhizomes we dig and transplant most our stock each year. Some varieties are replaced with new and different ones. Potted irises are available to purchase at the garden during the bloom season. Plants can be ordered at the garden, via the website or by mail and are shipped bare root July and part of August by UPS and USPS.

Our hybridizing efforts continue and this year we have 7 new varieties which can be seen at Introductions for 2013. John's Spice Trader was awarded an HM award from The American Iris Society in 2012 and his Splatter Matters won the best broken color award at the International Competition in Florence, Italy. We are always honored to receive awards for our irises.

For those of you visiting or living in the San Francisco Bay or the Northern California area we hope you can visit us during the bloom season as that's the best way to view the flowers. The garden is located 14 miles northeast of Napa near the southern end of Lake Berryessa. Depending on where you are coming from there are several routes to get here so it's best to consult a map. Steele Canyon Rd is just north of the intersection of Hwy. 121 and 128. The garden is 1.5 miles on Steele Canyon Rd on the right.

Best bloom time varies each year depending on the weather but usually peak bloom occurs between the first and second week of May. Please check our website for the latest bloom & garden conditions.
~ John & Lesley Painter