Greetings to all iris lovers,

We are here again for our 28th year growing and selling irises. The irises are sitting dormant at this point but the weeds are doing well. We are in the process of weeding the beds so they will look neat and clean for the spring bloom. We are again offering potted peonies at the garden.

We are a two person team with plenty of time consuming labor to indulge in but this allows us to maintain better quality control and offer a better product along with the personalized care that each customer deserves. We greatly appreciate all of our loyal customers and those new customers who order from us for the first time.

Our own iris introductions from our hybridizing efforts received awards in 2017 from the American Iris Society as voted by the AIS judges. Spice Trader was a runner up for the John C. Wister Medal. Teasing Tiger, Chocolatte and French Lavender received Awards of Merit. Cherokee Blaze, Double Chocolate, Planet Hollywood, Ruby Red Dress, Caramel 'N Chocolate, Rags To Riches received Honourable Mentions while Vibrato was a runner up for an HM. Thanks to all the judges who voted for them.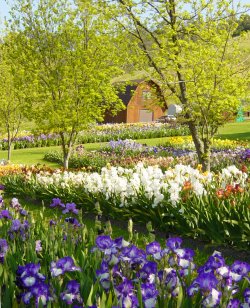 We start taking orders as soon as the 2018 website is up and running. We have many older tried and true varieties, some of the newest offerings from top hybridizers from around the world plus our own hybridized originations. It is always best to order early as we carry limited quantities of the many varieties we sell. In addition many varities sell out when the garden opens to the public in mid-late April and May. Shipping of all bare root plants is by USPS or UPS starting in July and ending mid August. After that we need to time to transplant our stock for 2019. In order to maintain the quality and size of our rhizomes we dig and transplant most of our stock each year.

Plants can be ordered either online, or at the garden when open for bloom season and by mail. Potted irises along with potted peonies are also available to purchase at the garden during the bloom season. All purchases at the garden must be paid for by either cash or check. Sorry - we cannot process credit card sales at the garden.

For those of you visiting or living in the San Francisco Bay or the Northern California area we hope you can visit us during the bloom season as that's the best way to view the flowers. The garden is located 14 miles northeast of Napa near the southern end of Lake Berryessa. Depending on where you are coming from there are several routes to get here so it's best to consult a map. Steele Canyon Rd is just north of the intersection of Hwy. 121 and 128. The garden is 1.5 miles on Steele Canyon Rd on the right.

Best bloom time varies each year depending on the weather but usually peak bloom occurs towards the end of April of first of May. Please check our website for the latest bloom & garden conditions.
~ John & Lesley Painter